I was able to gain a really strong footing in the World Cup this season thanks to my excellent team (Swiss Ski, my suppliers, service man, physios and management) as well as ongoing support from my sponsors. I had set myself the realistic goal at the beginning of the season of establishing myself in the top 30 in the giant slalom, my specialist discipline, so I'm overjoyed and still pinching myself a bit today to be able to say that I am actually number 7 in the giant slalom World Cup starting list. I'm nevertheless still keeping my feet very firmly on the ground.
I'm also really pleased that I managed to achieve six Top 10 results in the giant slalom and super-G this year, which demonstrates my consistency and poise. Small knock backs like losing out in the second round in Alta Badia after being in third place in the first GS run hurt at first, but I was quickly able to appreciate these disappointments as important and valuable experiences. This is a good motto to live by. In the last few months, I've also been able to get to know some of the most spectacular downhill runs and racing courses, for example, in Beaver Creek, Bormio and Kitzbühel, and gain important initial experiences and even some good first results on these debut runs.

I lucked out during my World Championship debut!
At my first appearance at the World Championships in Åre in February, I became the best Swiss competitor in super-G (ranked in 12th position) and I achieved 10th position in the giant slalom (second best Swiss competitor), which again speaks volumes for my strong nerves. The strain of major events is admittedly not too bad, but they're a step up from "normal" World Cup races. From quite early on, I specifically invested in focussed psychological training so that I could be ready for such events. I can say that I felt mentally prepared for all races.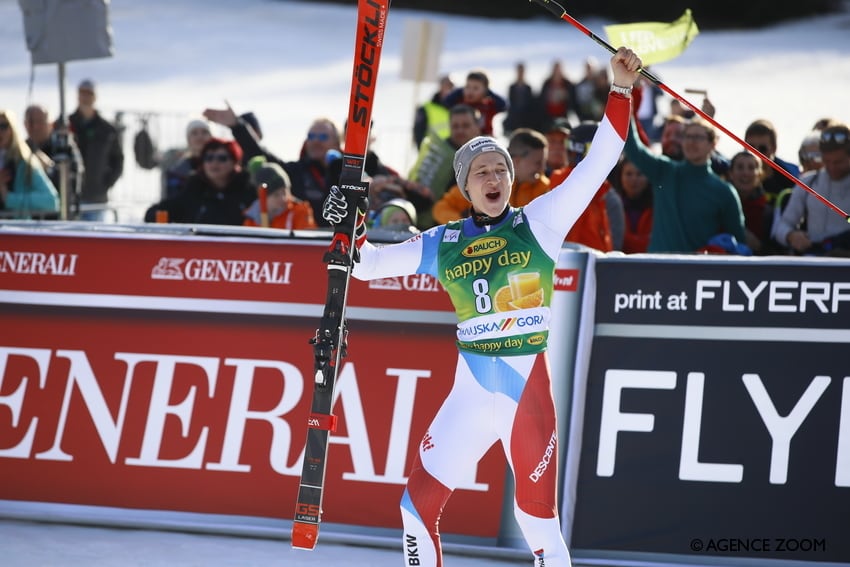 In the weeks following the World Championships and all the way up to the end of the season, I once more went at it "full throttle"! My first podium positions in Kranjska Gora (third place) and when I achieved second place in the giant slalom in the World Cup Final in Soldeu prove that I was more than fit enough, despite competing in four disciplines. My energy levels were still high right up until the last race day.
Both podium positions in the giant slalom are the highlights of my career so far! They've given me even more motivation for the rigorous 2019/20 pre-season training.
The strong season as a whole and these two top-three classifications are the result of an outstanding team performance – from both my personal team and the excellent and equally motivating team spirit in our Swiss Ski training group.
Last but not least, I would once again like to thank my main sponsor Helvetia and all of my premium partners warmly for their ongoing support.
Your support is very important to me as a young ski racer and definitely isn't taken for granted. I really enjoyed being able to finally meet many of my partners again in person during the Stöckli Day in Malters.
At this meeting, I was reminded once again that I am not only sponsored by fantastic companies, I am also supported by very lovely people.
Thank you for this great privilege.
And of course, I also count myself very lucky that my family and my fans are always "fully" behind me. You are simply an amazing "troop". The 2018/19 season is now history, here's looking forward to the 2019/20 season: "Full throttle!"