Two Central Swiss giants join forces: Titlis Cableways will be supporting Marco Odermatt as a premium partner for the next four years. We chatted to CEO Norbert Patt.
Mr Patt, with 1.2 million guests per year, Titlis Cableways needs no further introduction to visitors to the Marco Odermatt website. But perhaps you can share the recipe for your commercial success?
Norbert Patt: First things first, nature is definitely on our side. Encompassing Lake Lucerne and its surrounding area, Central Switzerland is simply stunning and is – as the name suggests – centrally located, making it a quick and convenient destination for Swiss visitors and international tourists alike. This prime location has been consistently beneficial to Titlis.
How important are winter sports to Titlis Cableways?
Norbert Patt: Extremely important – increasingly so, in fact, because the distinct focus on winter sports sets us apart from other destinations in Central Switzerland. We go to great lengths to ensure that we make our winter guests feel at home.
You've recently entered into a four-year partnership with Marco Odermatt. What were the reasons behind this?
Norbert Patt: Marco Odermatt grew up near Titlis and as he attended the sports school in Engelberg, you could say it's his local mountain. He has shown incredible sporting potential with some fantastic achievements at the end of the last winter season. We are convinced that he will be a great ambassador for our region in general and for Titlis Cableways specifically over the coming years.
Especially ahead of the Olympic Winter Games in Beijing in 2022?
Norbert Patt: By that time, he could well be top of the world rankings. Given the large number of Asian guests that come to Titlis, a win for Marco Odermatt in Beijing would naturally also be a huge win for us. We are not setting any concrete goals, but we are certain that Marco will achieve great success internationally and this will in turn raise awareness across the globe.
What are you expecting from your new ambassador this winter?
Norbert Patt: Marco Odermatt is not just a talented sportsman, he's also a regional and national popular figure – down-to-earth, authentic, humble and with regional roots. This made us want to be Marco's premium partner and support his sporting and personal development without demanding specific results or putting any other pressure on him.
Over to you, Marco, for the final word. What does it feel like to have the likes of Norbert Patt and other premium partners offering such positive comments?
Marco Odermatt: Naturally, I'm delighted with the wealth of support from Norbert Patt, other partners and many other people, particularly from Central Switzerland. Just before I left for Adelboden, an enthusiastic older lady stopped me in Migros and told me she was already a fan. With great optimism, she told me she would watch me on TV in the second race on Saturday afternoon but would have to miss the morning race as she had a card game that she absolutely couldn't miss. I had to grin at her confidence in my sporting abilities – and her priorities. For the first time in my career, I did in fact qualify for the second race in Adelboden. I hope that lovely lady had a successful card game in the morning and was satisfied with my tenth place in the final rankings in the afternoon. In answer to your question, I am both delighted and motivated by positive comments – whether on Titlis or in Migros.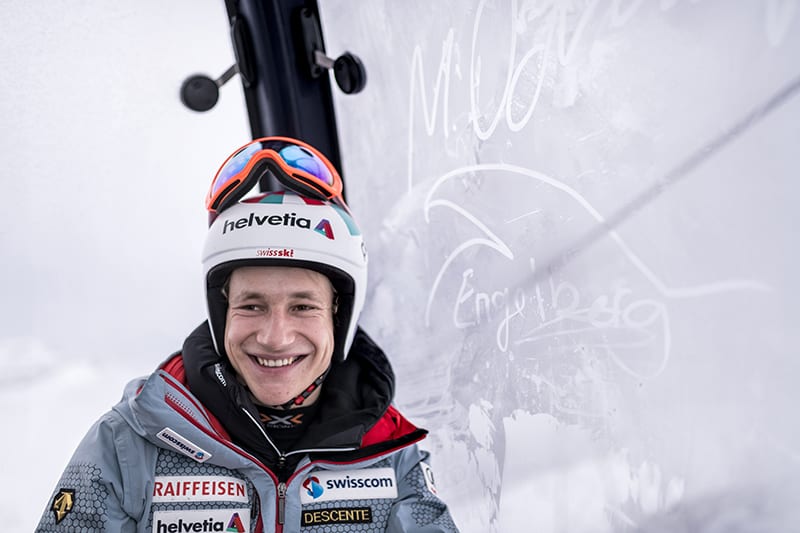 Hand on heart, is Titlis really your local mountain?
Marco Odermatt: Yes, Titlis really is my local mountain. As a young boy, I learnt to ski with a passion on Klewenalp. During my time at the Engelberg sports school, I travelled to training countless times on the Titlis cableways. I owe a great deal of my sporting ability to Titlis. Nowadays, I prefer it for the relaxation aspect. At the end of the season, I only lasted two days back at home in Buochs before I was out skiing on Titlis with my father, Walti. The Titlis region is the perfect winter destination – but I can also vouch for the fact that it's well worth a visit in summer, too.
Interview with Norbert Patt, CEO of Titlis Cableways